Our 50th Class Reunion was held Saturday, September 20, 2014, at 6:00 PM at American Legion Post #230, 701 E. Morgan Street, Martinsville, IN 46151.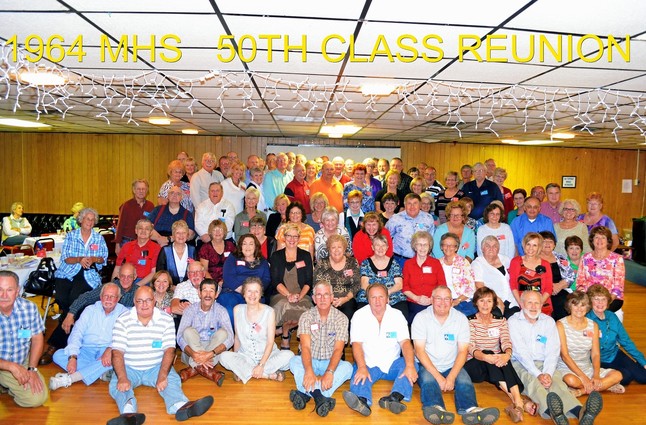 A list of those classmates in attendance follows: Ken Addington, Inez Allen (June), Pam Allen (Lanam), Dean Ayers, Susan Badger (Hillman), Tessa Ballinger (Blackketter), Tom Barrick, Bill Berry, Terry Brummett, Sandy Brummett (Mason), Pat Bryant (Everroad), Connie Burkett (Johnson), Donnie Burns, Frank Burton, Gary Carrell, Mary Beth Champlin (Fetherolf), Karen Coffey (Denney), Roger Coffin, Terry Collier, Evan Collinsworth, David Dilley, Karl Dorff, Phil Dow, Pam Driscoll (Guinn), Melinda Duncan (Williams), Emily Rose Dunigan (Koon), Tom Dunn, Gary Etter, Ted Ferran, Norman Fisher, Sandy Fogleman (Martin), Rodney Fox, Mary Ann Fulford (Wooster), Denis Graham, Sharon Graves (Fowler), Virginia Hawkins (Holsapple), Terry Hicks, Mickey Hillman (Spradlin), Frans Hollanders, Larry Holt, Theressa Houchin (Rynard), Barry Kennedy, Sandi Kinder (Kennedy), Carol Landrum (Styer), Dennis Lanam, Jim Lankford, Linda Marple (Strickland), Judy Martin (Fulford), Gary Mason, Joe Mason, Linda Mason (Burleigh), David Maxwell, Jane McGinnis (Collinsworth), Tony Miles, Joan Musgrave (Miller), Kay Norman (Hollanders), Jill Nutter (Keller), Jim Parker, Dannette Pobalis (Stevens), Phil Powell, Bill Prather, Rick Prather, Janice Price (Routt), James Reed, Judy Rhodes (Staggs), Mary Riffel (Buttery), Anita Sadler (Schnaiter), Rita Schell (Laymon), David Shafer, Sheila Shireman (Puckett), JoAnne Shireman (Sichting), Dale Smith, Pauline Spangler (Jefferies), Paul Stafford, Wayne Staggs, Tom Stanger, Janet Stewart (Stalker), Delilah Stout (Fauber), Peggy Strader, Sue Strader (Voorheis), Brenda Swafford (Crowe), Joyce Tedrow (Silleti), Phil Teeters, Mike Telfer, Barbara Thacker (Thomas), Roy Thompson, Sam Traylor, Jim Turpin, Wayne Vaught, Betty Walker (Seitzinger), Jeannette Whaley (Goss), Becky Williams (Leonard), Kathy Wilson (Munoz), Joyce Woodall (Mackey), and Pat Zelahy (Maxwell).
Left-click on the Photos tab to see more reunion pictures.